Sleep disturbance is very important to recognize and address early in the concussion recovery process
How many concussion symptoms can you name? Headache, nausea, dizziness… the list goes on.
These days, most people are aware of the most common symptoms of concussion. But do you know about some of the lesser common symptoms?
Today on the blog, we will discuss sleep disturbance as a symptom of concussion. It may be less common, but it is very important to recognize and address early in the recovery process.

Sleep Disturbances
Sleep disturbances are defined as problems with the quality, timing, and amount of sleep. These problems usually result in reduced functioning during the daytime. (1) There are two primary concerns when sleep disturbance is reported as a symptom following concussion:
Sleep disturbance can prolong recovery.
Sleep disturbance can perpetuate other consequences of concussion, like cognitive impairments and depression.
But we really don't know a whole lot about sleep post-concussion. This is mainly because sleep is very difficult to measure in real-world settings versus overnight in a hospital!
Research Study on Sleep Disturbances
Researchers from the Medical College of Wisconsin studied this topic in a cohort of 57 high school and college male football players with sport-related concussion. (2) They also recruited 26 football players without a concussion as a comparison group. Specifically, the research team wanted to know about the effects of concussion on sleep in the acute (within 48 hours) and sub-acute (within 2 weeks) time periods following head injury.
The researchers studied sleep in two ways:
Actigraphy – A small device (activity monitor) was attached to the participants' wrists to monitor sleep activity.
Self-report of nightly sleep – Participants tracked the number of hours in bed and the number of hours slept for two weeks.
Both the activity monitor and the self-reported assessments showed that the concussed group spent a significantly lower number of hours asleep than the non-concussed group in the first three days post-concussion. The concussed group also self-reported lower sleep efficiency in the first three days. This was not observed in the activity monitor data.
These results indicate that sleep disturbances do occur, but may be limited to the acute phase following a concussion. Secondly, self-reported sleep symptoms may not be suggestive of actual changes in sleep.
There are a couple of limitations worth noting. First, this study was limited to male football players, therefore, we can only make assumptions about females or other types of athletes based on the results of this study. Second, some data was missing, as it was difficult to get participants to wear activity monitors all the time during the study period.
Takeaways
When it comes to sleep disturbance, the researchers alluded to a "chicken or the egg" phenomenon: Does the concussion cause sleep disturbance? Or does sleep disturbance occur secondary to other concussion symptoms (like headache)?
When working with concussed athletes, it is so important to assess and understand their sleep patterns and overall symptom presentation to offer the best possible suggestions for recovery. Especially because each person's symptom experience is unique!
References
What are Sleep Disorders? American Psychiatric Association. https://www.psychiatry.org/patients-families/sleep-disorders/what-are-sleep-disorders
Considine CM, Huber DL, Niemuth A, Thomas D, McCrea MA, Nelson LD. Relationship between Sport-Related Concussion and Sleep Based on Self-Report and Commercial Actigraph Measurement. Neurotrauma Rep. 2021 Apr 26;2(1):214-223. doi: 10.1089/neur.2021.0008. PMID: 33937913; PMCID: PMC8086521.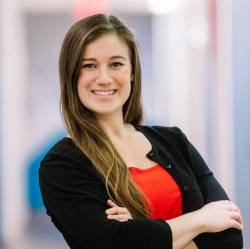 Latest posts by Dr. Jennifer Hunnicutt
(see all)