Nikki shares her career concussion challenges, lessons she has learned, and advice to other ATs.
In this series, we spotlight a customer to share their career story, advice and show our appreciation for their hard work and continued support of HeadCheck. 
Nikki Antonopoulos is a passionate and dedicated person with a lot of experience in her field. She has been a customer of HeadCheck for over five years. She is the current Head Athletic Therapist at the Royal Military College of Canada and was previously at the University of British Columbia for 7 years before moving to Ontario. 
Nikki completed her Bachelor of Arts degree with a double major in Kinesiology and Psychology, and Certificate in Athletic Therapy at York University and worked with many of the sports teams there. At York, she was able to work with the football team and gain experience working with concussions. 

The Challenges of Dealing With a Concussed Athlete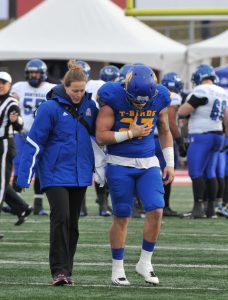 When asked to speak on a concussion challenge she faced in her career, Nikki shared a story about working with a football player. She recalls an incident where a player collided head-to-head with another player during a practice and went unconscious immediately on impact. Once the athlete was brought to the sideline and regained consciousness, he insisted that he was fine and wanted to go back in the game. To stop him from playing, Nikki had to take his helmet away. While this made the athlete very unhappy and difficult, she knew that allowing him to return to practice could lead to serious long-term consequences. 
In the days following, the athlete was very resistant to return-to-play protocols and was still frustrated about being unable to play. Nikki stood her ground and was firm that he had to follow all the appropriate steps to get back in the game. A few days later, the athlete visited Nikki and expressed how grateful he was that she didn't let him play again. He admitted to having been feeling specific symptoms that he had been neglecting and was thankful for Nikki for doing her job. That experience with the football player affirmed to Nikki that as an AT, you might seem like the "bad guy" at the moment, but you are protecting the athlete from much more long-term consequences, and often from themselves.
How Her Own Concussion Helped Her
Another career concussion challenge was when Nikki suffered a head injury during a flag football game. It was a head-to-head injury during the game, and she immediately had to lay down on the ground and take a minute to re-orient herself. Over the next while, she experienced the effects of a concussion first hand, such as having difficulty texting, inability to focus, and sensitivity to noise. Even when she tried to go on a walk, Nikki says she "felt like [she] was drunk." Through this, she gained insights into what athletes feel when they are concussed and felt firsthand how these symptoms present themselves.
Reflecting on Her Experiences
When reflecting on the above experiences, she said what kept her going was remembering what she was doing was for the greater good. The athlete in question might resent the AT at the moment, but they will be grateful later, just like that football athlete was. Nikki also said it's common for coaches to be on the athletes' side because their goal is to win the game as well, so the AT needs to remain uninfluenced by external factors when making decisions about athletes' health and safety. Nikki expressed the importance of having people who understand concussions on the sideline who can make those tough decisions and objectively evaluate when it's necessary for the athlete to be pulled from play. 
Nikki's advice for other AT's:
Know your athletes. Some may be more resistant to protocols than others, so it's essential to know which athletes may not put their health first so that you can support them in doing so. 
Don't be afraid to be the "bad guy" – someone has to do it! The athletes and coaches depend on you to stay uninfluenced by external factors and make the best decision for their health. It is the athlete's and coach's job to win games, but it is yours to keep the athletes safe.
It is vital to have protocols in place. For example, the football player who went unconscious during the practice seemed "fine" when he woke up, so it is difficult to justify why they cannot just continue playing if someone on the sidelines does not understand concussions. However, unconsciousness itself is a symptom of concussions, and that is why he was not allowed to play until fully cleared. 
Nikki's Experience with HeadCheck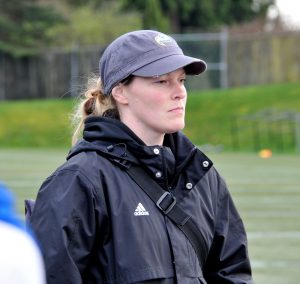 Nikki has been a long-time customer of HeadCheck, and she shared how HeadCheck has helped her in her role. She initially used HeadCheck at UBC, but when she moved to Ontario, the first thing she wanted was to implement HeadCheck there as well. One major perk is the fully electronic baseline tests without having to deal with paperwork. 
Nikki also touched on how helpful HeadCheck is for student trainers when they are traveling with athletic teams. Nikki cannot travel with multiple sports teams at once, so she depends on student trainers to conduct assessments and then send them back to her right away for review. HeadCheck makes this a seamless, quick, and paperless process. It is great because students can efficiently conduct the assessment since the HeadCheck app guides them through the process, and then Nikki can view it on her device and guide the student from afar. It lets her be in many places at once!
Nikki is a valued customer of HeadCheck, and we thank her for her longtime support and for sharing these valuable insights with us. Here are a few words that Kerry Costello, COO and Co-Founder at HeadCheck, has to say about Nikki:
"It has been such a pleasure to work with Nikki over the last several years. She is one of those people who you can't imagine a better career-fit for and it's so easy to see how Nikki pours herself into her profession. I feel very lucky to have met Nikki so early in this company's development because she sees the intersection of health and technology clearly and recognizes how leveraging it can make her more effective at her job. 
She has helped define the HeadCheck product from its early days, allowing us on-site to shadow her, guiding and providing suggestions for how to make the system better and highlighting where things aren't quite right. The result of her feedback has been tremendous. Building solutions alongside professionals like Nikki, seeing the care that her athletes receive, and finding ways to free up her time to focus on treatment and care is core to our HeadCheck team's purpose and I can't wait to see what the next few years hold for us as she continues to build up the program at RMC."
Latest posts by HEADCHECK HEALTH
(see all)