Easily manage government COVID-19 Screening requirements
Local guidelines state that standardized COVID-19 screening for all athletes is required as sports organizations return to train, practice, and play. 
We've leveraged our technology used to follow concussion protocols to create a COVID-19 Screening App to help you stay on top of health and safety. Alerts keep staff up-to-date and a web dashboard makes it easy to track the screening process.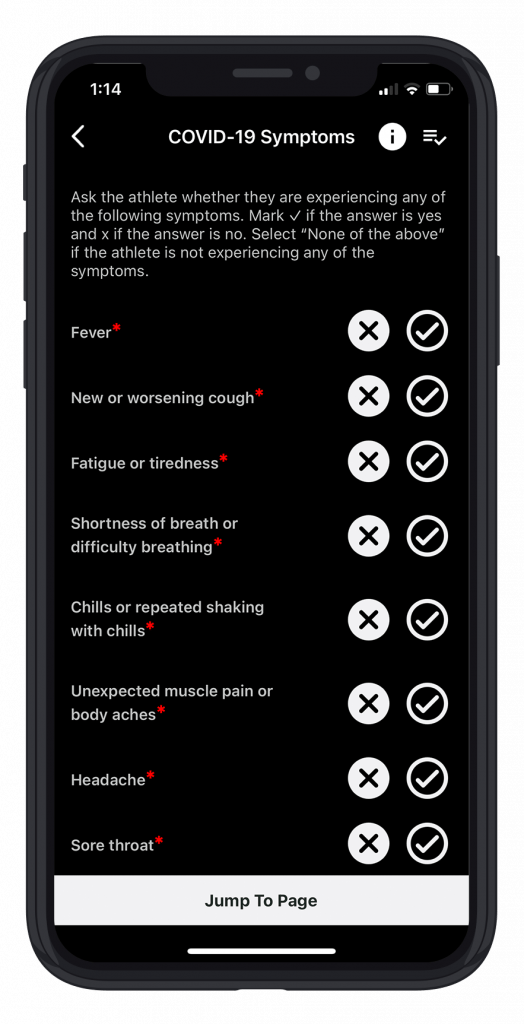 Simplified Screening
A standardized COVID-19 screening questionnaire in your HeadCheck account will guide you through a set of questions that track symptoms and potential at risk athletes and staff.
Automated Notifications
The built in alert function will automatically send a notification to the designated staff/user if any data breaches a designated threshold. (e.g. recorded temperature greater than 38° C or 100.4° F).
Compliance Reporting
All submitted questionnaires will be automatically streamlined and uploaded onto the dashboard. This allows for easy tracking and follow ups regarding:
"Flagged" COVID-19 symptom questionnaires
Athletes who haven't completed their daily COVID-19 symptom screens
Everything At Your Fingertips
Use your desktop, laptop, mobile phone, or tablet to complete COVID-19 screening prior to entering facilities and interacting with teammates, coaches, and staff.
Available on iOS and Android
HeadCheck's COVID-19 Screening App Helps…
Staff maintain government standards
Organization Administrators ensure best practices are being followed
Athletes easily complete pre-participation questionnaires at home
Interested in running your COVID-19 Screening through HeadCheck? Contact us to find out more.
Latest posts by HEADCHECK HEALTH
(see all)