It's probably not surprising that individuals who suffer concussions experience prolonged reaction times. A good reaction time indicates that a person can respond to stimuli quickly. For athletes, prolonged reaction times can affect performance in sports, as well as the ability to efficiently do day-to-day activities. 
For these reasons, reaction time is a measure that can be assessed and monitored by qualified healthcare professionals as part of the post-concussion battery of tests. (1)

Measuring Reaction Time after Concussions 
A study published in the Journal of Athletic Training in December 2020 evaluated reaction time before and after concussion. (2) The researchers studied 2579 collegiate athletes, 356 of which suffered a concussion during the study period. As opposed to using a test of reaction time on the computer, researchers required participants to catch a dropped physical object with their hand as quickly as possible. This test, which they called clinical reaction time, (3,4) is engaging and motivating. This is an important quality of concussion testing, especially in young athletes who are required to undergo a multitude of rigorous and time-consuming tests following their head injury. 
Reaction Time Gets Worse after Concussions 
The researchers found that reaction time was worse within 6 hours following injury, was still prolonged within 24-48 hours, but recovered once return to play protocols were initiated. 
Normative Values can be Used in Place of Baseline Testing
Another important aspect of the study is that researchers evaluated if normative values of reaction time could be used instead of baseline testing. Baseline testing is a common, but time-consuming, practice in concussion management to gather individualized information to be used in the evaluation of an athlete sustaining a head injury. Normative values are numbers from large population data that can be referenced and used to interpret test results, in place of baseline testing. For example, the normative values for clinical reaction times for athletes who participate in contact sports is 204ms for females and 195ms for males. (5)
Dr. Caccese, the primary author of this research study, believes that establishing normative data is "vitally important." She notes that "baseline testing can account for patient's pre-injury differences, but it's also very time intensive. If you consider a single athletic trainer working at a smaller university, or a high school, covering all sports, it may not be possible to baseline test each athlete each season."
Dr. Caccese and the researchers compared the normative values to those that they collected on their sample of athletes at baseline. They found that these normative values functioned just as well as baseline values. 
So What Does This Information Mean? 
This is great news for healthcare providers who may not have access to time, fancy equipment, or multiple personnel required of conducting baseline testing. They can use the normative values from this study to evaluate clinical reaction time in their athletes who sustain head injuries. 
These types of studies require large sample sizes, and that is certainly a major strength of the present study, which collected 2579 student athletes at baseline. It should be noted though that this study only consisted of collegiate student athletes, and therefore generalization to other types and ages of athletes should be proceeded with caution. As Dr. Caccese said, "it's important to recognize that normative data is very specific to the cohort from which it was established." Fortunately, the clinical reaction time test is relatively easy, speedy, and inexpensive to conduct, so we look forward to future work in other types of athletes. 
In conclusion, concussion management requires a multifaceted approach. (1) Qualified healthcare professionals can measure clinical reaction time in their collegiate athletes post-concussion and use the normative values established in this study. If prolonged reaction time persists by initiation of return to play protocols, then consultation for further testing and evaluation should be considered. 
References 
Broglio SP, Cantu RC, Gioia GA, et al. National Athletic Trainers' Association position statement: management of sport concussion. J Athl Train. 2014;49(2):245-265. 
Caccese JB, Eckner JT, Franco-MacKendrick L, Hazzard JB, Ni M, Broglio SP, McAllister T, McCrea M, Pasquina PF, Buckley TA. Clinical Reaction Time After Concussion: Change From Baseline Versus Normative-Based Cutoff Scores. J Athl Train. 2020 Dec 22. doi: 10.4085/JAT0457-20. Epub ahead of print. PMID: 33351902.
Eckner JT, Whitacre RD, Kirsch NL, Richardson JK. Evaluating a clinical measure of reaction time: an observational study. Percept Mot Skills. 2009 Jun;108(3):717-20. 
Eckner JT, Kutcher JS, Broglio SP, Richardson JK. Effect of sport-related concussion on clinically measured simple reaction time. Br J Sports Med. 2014;48(2):112-118. 
Caccese JB, Eckner JT, Franco-MacKendrick L, et al. Clinical reaction time performance factors in healthy collegiate athletes. J Athl Train. 2020 Jun 23;55(6):601-607.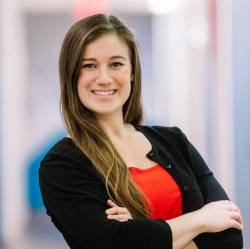 Latest posts by Dr. Jennifer Hunnicutt
(see all)