What do Rehabilitation Clinicians do for Youth who are Slow to Recover from Concussion?
A number of youth athletes who sustain a concussion will be slow to recover. This means that they will experience lingering symptoms greater than two weeks after the concussion.
To the treating clinician, youth with prolonged recovery from concussion can be puzzling. A number of treatment options are used, often by a trial-and-error process.
One treatment option with more recent supporting evidence is aerobic exercise.
Once considered to slow the recovery process, aerobic exercise now has scientific evidence to support its use in concussion care, particularly for youth with prolonged concussion recovery.

But are rehabilitation clinicians prescribing aerobic exercise for youth with prolonged concussion recovery?
Researchers from Canada sought to answer that question! They surveyed rehabilitation clinicians in Canada to determine their management practices, including prescription of aerobic exercise, for hypothetical cases of youth with prolonged recovery from concussion.
The motivation to conduct this study was a lack of research on management practices for young patients with prolonged symptoms (defined in this study as greater than two weeks post-concussion). Youth with prolonged recovery from concussion is a serious health concern, as they are at risk of reduced function (physically and academically) and increased levels of depression and anxiety.
Researchers administered an electronic questionnaire (both English and French) to members of three professional organizations in Canada. Members included rehabilitation clinicians that were athletic therapists, physiotherapists, or occupational therapists.
Researchers used two hypothetical clinical cases to survey the rehabilitation clinicians to see how they would treat the youth patients in the cases. One patient case was a 10-year-old female soccer player and the other was an 8-year-old male hockey player, both with lingering symptoms >2 week post-concussion diagnosis.
The number of clinicians that completed the full survey was 555. The majority of respondents were female (72%), physiotherapists (62%), and working in the private outpatient setting (62%).
Management Practices for Youth who are Slow to Recover from Concussion
The top four treatments suggested by the rehabilitation clinicians in the clinical cases were:
Education
Goal Setting
Sleep Recommendations
Energy Management
Aerobic exercise was not in the top five treatments. It was suggested by only one-third of the respondents in each of the hypothetical clinical cases. Interestingly, the clinicians who regularly treated a majority of concussion patients in their clinical practice were more likely to prescribe aerobic exercise. The majority of clinicians also indicated that they would refer the patients in each of the cases.
Summary
Despite evidence for the benefits of aerobic exercise for youth with prolonged recovery post-concussion, few (one-third) of the surveyed rehabilitation clinicians indicated that they would prescribe aerobic exercise. Although this is a small percentage, it may indicate a shift away from rest as the sole recovery option, as more and more evidence is showing the benefits of aerobic exercise post-concussion.
This study highlights the importance of having rehabilitation clinicians specialized in concussion care treating youth with prolonged recovery. It also indicates a need for more dissemination of the benefits of prescribing aerobic exercise in this patient population.
References 
Dobney DM, Gagnon I. Concussion Management Practices for Youth Who Are Slow to Recover: A Survey of Canadian Rehabilitation Clinicians. Physiother Can. 2021;73(1):90-99. doi:10.3138/ptc-2019-0048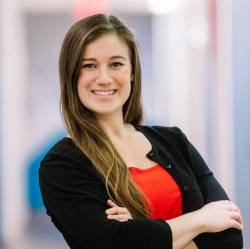 Latest posts by Dr. Jennifer Hunnicutt
(see all)