Sukhjit Sanghera shares why she wanted to become an Athletic Therapist (AT), challenges, lessons learned, and advice to other ATs. 
Sukhjit Sanghera, recently selected as Pacific Junior Hockey League's Therapist of the year, has been using HEADCHECK since 2018. She graduated in 2020 from Camosun College with a Bachelor's degree in Athletic & Exercise Therapy. For over the one year she's been a certified AT, Sukhjit is already very involved with three teams: the Richmond Sockeyes Junior Hockey Club, Field Hockey Canada, and the New West Junior A Salmonbellies Lacrosse Club. When asked why she wanted to become an Athletic Therapist, it all started with her love for the Vancouver Canucks Hockey Team. At the early age of 3-4 years old, Sukhjit was curious about the person behind the athletes with the medical team who would run out onto the ice to help the players. It was Mike Burnstein, the Vancouver Canucks' longtime Athletic Trainer, by whom Sukhjit was inspired.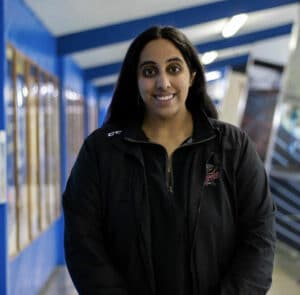 Challenges of becoming an AT
When discussing challenges, Sukhjit talked about burn-out. As an AT, it's very easy to overwork and overextend yourself by packing your schedules by covering as many games and practices as possible. While Sukhjit is still trying to figure out how to prioritize her well-being better, she mentioned that carving out a little bit of time for herself daily to reduce the tension is an excellent way to start.  Despite being a Athletic Therapist for three different teams and being an integral part of athlete's safety, Sukhjit says the imposter syndrome doesn't go away. From conversations with health care professionals working within sport, this has been a common theme regardless of how long one has been practicing. When asked how she deals with imposter syndrome, she said to remember: your athletes trust you with their wellbeing for a reason. You deserve to show yourself the same amount of trust and respect your athletes, coaches, and team express towards you. While overcoming imposter syndrome is easier said than done, Sukhjit said, "just like our athletes practice, practice, practice, you just have to keep practicing over and over again and learn to build your confidence and self-efficacy every day.
Sukhjit's Advice to ATs
Fill your cup first. It's essential to take care of yourself and be in a good place mentally, physically, spiritually, etc. You can help and treat others, but it will be immensely harder when you're struggling. 

Trust yourself – Trust that you know what you're doing, you went to school, people trust you in your role, and you are here for a reason. 

Do your research. Staying up-to-date with research is essential. Information regarding concussions is constantly emerging; read the research and make an informed decision. 

Reach out. When in need of help, reaching out to your community (whether it'd be ATs, Physical Therapists, Strength and Conditioning specialists, etc.) and having an outside perspective is always helpful. Ask vulnerable questions, be honest about how you feel because they've likely been through what you're experiencing, and have fantastic knowledge and advice to share. 
Reflecting on her experience
Reflecting on her experiences, Sukhjit has learned a few lessons as an AT. She said, "nothing is ever linear. Just because you learn how to do it one way doesn't mean it's the only way. There are multiple other avenues, including injury prevention, treatment, rehab programs." This relates to the next point, which is that every athlete is different, and your treatment approach will be different; thus, being mindful of each individual athlete's condition and staying up-to-date with research will help you more as an AT when dealing with concussions. 
How has HEADCHECK supported Sukhjit in doing her role?
Not only has it saved Sukhjit so much on printing expenses, but it has also provided a streamlined process for reporting and managing concussions. She said,  "It's nice having everything in one application. If a player gets traded or you acquire an athlete from a different team, their information follows them. You're not busy hunting down the paperwork, and it's super simple to use. The athletes can also see their results compared to their baseline scores when they get injured, and it's easy to share with doctors when needed." Sukhjit has been a long-time customer of HEADCHECK. She started using HEADCHECK in 2018 when she was still a student athletic therapist with a Junior B team. She mentioned how it's been incredible to see the improvements within the app.  Sukhjit is a valued customer of HeadCheck, and we thank her for her longtime support and for sharing these valuable insights with us. Here are a few words that Shaireen Cassamali, a member of our Customer Success team, has to say about Sukhjit: "As someone who's worked with SJ over the last four years, I can confidently say that SJ's consistent and thoughtful care for her hockey and lacrosse athletes shines through when it comes to concussion care. I've witnessed her relentless passion for sport and health and the need to make a difference in these industries. It's no surprise that she wins awards such as 'AT of the year'. ATs like SJ are exactly what is needed when it comes to providing the proper care for the athlete, and we're honoured to have her support with the HEADCHECK system."
Latest posts by HEADCHECK HEALTH
(see all)