Oftentimes when an athlete gets a concussion, they will avoid reporting the concussion to their coach or athletic trainer. Some reasons for not reporting a concussion include fear of not getting to play or fear of letting their team down.
Significant effort has been made through concussion education programs to improve knowledge about concussions. However, these programs have not translated to improved concussion reporting.
Since knowledge alone is not enough, education programs that focus on changing behaviors are needed.

Research on the Peer Concussion Education Program
Drs. Kneavel and Ernst are focused on changing behaviors around concussion reporting through their research. They seek to understand barriers so that they may better design education programs that ultimately lead to better reporting behaviors. (1)
In their previous study, Drs. Kneavel and Ernst designed and implemented a Peer Concussion Education Program. (2) This type of program has been shown to improve feelings and attitudes, thereby changing behavior in a wide range of populations, including athletes. You can read more about the success of their program in their initial publication here. (3)
This type of program utilizes peers – in this case two of the student athletes – to deliver the concussion education to their fellow teammates. Part 1 involved education on signs and symptoms, return to play, and injury reduction. Part 2 involved the peers leading their teammates through an interactive and engaging activity. This activity involved completing a worksheet where the athletes had to write down a thought that would prevent them from reporting a concussion and then write down a replacement thought for better reporting.
Themes that emerged from the Peer Concussion Education Program
Responses from 503 college athletes were collected via the worksheets as part of this study. Ten themes emerged from the data analyses on the replacement thoughts developed by the college athletes:
Short-Term Benefits Post-Concussion
Participants realized that if they report their concussion and allow their brain to recover, they will return to play stronger and better.
Faster Recovery
Athletes realized that the sooner they report their concussion, the sooner they will get proper treatment and improve the likelihood of a faster recovery.
Safe and Healthy Return to Play
Participants realized the importance of their health and safety as college athletes.
Reporting Helps the Team
Participants began to understand that if they report their concussion, they will actually be helping their team overall.
Reporting Protects the Brain
Participants made statements like "you only get one brain."
Risk Aversion
Participants realized that they don't want to risk their health by not reporting their concussions.
Long-Term Benefits
Similar to the first theme on benefits, some participants took a long-term approach in their replacement thoughts by recognizing the long-term benefits of reporting.
Coach Will Support Me
Participants realized that coaches will support athletes taking charge of their own health and safety, rather than holding it against them.
Teammates Will be Supportive and Understanding
Similar to the theme above, participants recognized that their teammates will also be supportive, rather than being angry or disappointed.
Better Academic Performance
Participants realized that their academic performance is also important to their role as a student athlete and that concussion reporting will improve their academics.
Takeaways
Through the Peer Concussion Education Program, college athletes were able to generate replacement thoughts to combat the barriers to concussion reporting. These thoughts emerged into 10 themes which could be categorized as health and safety, supportive culture, and improving both athletic and academic performance. Researchers plan to do future research to determine what reporting behaviors can actually change as a result of these replacement thoughts.
References
Kneavel M, Ernst W. Cognitions That Support Concussion Reporting in Collegiate Athletes: An Analysis of a Worksheet Activity. Health Educ Behav. 2021 Oct 12:10901981211046535. doi: 10.1177/10901981211046535. Epub ahead of print. PMID: 34636271.
Kneavel ME, Ernst W, McCarthy KS. Randomized Controlled Trial of a Novel Peer Concussion-Education Program for Collegiate Athletes. J Athl Train. 2020 May;55(5):456-468. doi: 10.4085/1062-6050-0182.19. Epub 2020 Apr 16. PMID: 32298143; PMCID: PMC7249285.
Center for concussion education and research peer concussion education. https://www.chc.edu/peer-concussion-education/peer-concussion-education-program-manual. Accessed December 9, 2021.
About the Author
Dr. Jennifer Hunnicutt is a licensed athletic trainer with a PhD in Health and Rehabilitation Science, who has worked with all types of athletes, including professionals and Olympians. She has held prominent research positions at Emory Sports Medicine and the NBA Hawks Center in Atlanta, GA, as well as serving on the national network of healthcare providers for U.S. Figure Skating. Now the owner of Hunnicutt Writing and Consulting, LLC, Dr. Hunnicutt collaborates with global institutions, spearheading innovation and research among professionals and businesses in Sports Medicine and Orthopedics. Learn more at https://drhunnicutt.com.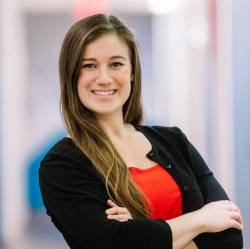 Latest posts by Dr. Jennifer Hunnicutt
(see all)