The notes feature allows you to meet organization concussion protocol requirements easier
What is it?
With our digital platform, you no longer need the traditional pen and paper because now you can easily jot down any additional information you may want to have by simply typing a message into the designated note or attaching an image/file. 
Why is it important?
Communication is key! Record and store all important information in one place, ensuring that all authorized individuals are in the loop on each player. This feature provides flexibility for users to further customize the reporting and tracking of injuries. By collecting additional notes on an athlete and on their injury, all individuals involved in an athlete's recovery can have a better understanding of the injury, assessments performed, and return to play procedure.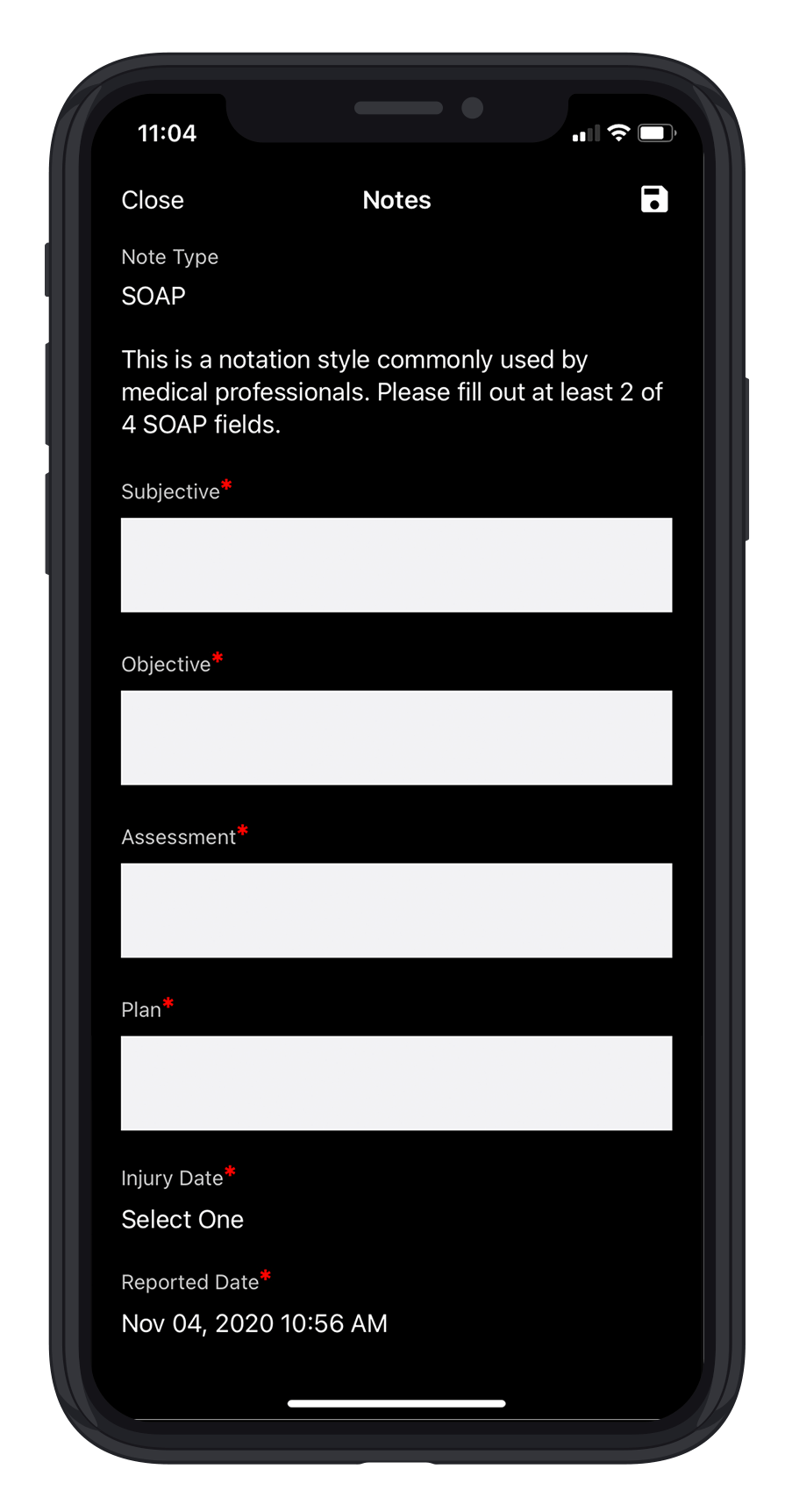 Key Features
In addition to basic note taking, this feature allows for several different types of notes to be uploaded:
SOAP Notes: Subject, Objective, Assessment, and Plan note method of documentation for healthcare providers.
Clearance Notes: Documents medical clearance to return to sport after an injury
Diagnostic Notes: Records the information from the athlete's personal physician regarding their concussion diagnosis
Neuropsych Notes: Assessment of the function and health of an athletes' brain
General Notes: Allows users to record any other useful information about the athlete's health, including medical exam results, observations after an injury occurred, etc.
Status Change Note: Updates the athlete's health status the day after a head injury
For Medical Professionals
Accommodating of all note types
The notes feature adapts to medical professional's current practice and procedures. This function simply digitizes what would be written by hand on paper. Medical professionals can upload clearance notes and SOAP notes as well.
For Parents
Eliminates the problem of forgetting important information 
Staying-up-to date with all your child's injury reports, notes and other information can be overwhelming and a lot to remember. With the notes feature, parents can access all notes that medical professionals have uploaded via their Guardian account. This eliminates the problem of forgetting important information because everything is saved in one place with this function.
For Athletes
Keeps all important notes in one place
With this feature, athletes no longer have to worry about remembering if they have the correct clearance notes or if they remember all the important information that medical professionals told them about their injury. With the Notes features, players can simply log in via their Athlete account and view all this important information in one place.
For Coaches
Easily viewable 
No longer will coaches have the burden of remembering which athletes have been cleared for play or not, because now they can easily view clearance notes from medical professionals attached to their athlete's profile.
Interested in saving time and improving your workflow? Contact us here for a demo of HeadCheck.
Latest posts by HEADCHECK HEALTH
(see all)