Ensure the health and well-being of equestrian athletes by recognizing risks, prioritizing safety measures, and establishing and implementing effective protocols.
When we think of sports-related concussions, horse racing might not be the first activity that comes to mind. Nonetheless, concussions are a growing concern in equestrian sports, especially in horse racing. Jockeys face a high risk of concussion – higher than the risk faced by American football players.
In this blog, we will delve into the prevalence and associated risks of concussions among jockeys, safety measures, global protocols, and challenges of implementing concussion protocols in equine sports.
Prevalence of Concussions in Equestrian Sports
Concussions are prevalent in equestrian sports, particularly in racing. Various research studies spotlight the extent of concussions among jockeys in horse racing:
Research indicates that concussions account for 4-12% of all injuries in horse racing (1,2).
A study of professional jockeys from Great Britain found that concussions represented the third most common injury among race-day incidents (3).
Notably, roughly 11.5% of jockey falls during flat racing and 6.1% during jump racing resulted in concussions (1).
A study of professional and amateur jockeys from Ireland revealed that half of the jockeys would continue racing on the same day they got a suspected concussion (4).
Excitingly, research initiatives such as the Equestrian Athlete Initiative at the University of Kentucky are actively contributing to this evolving body of research.
It is important to note that the current research may underestimate the true prevalence, given the continued issue of underreporting of concussions in horse racing. The prior mentality of getting injured in horse racing has been to tough it out and "get back in the saddle." Additionally, professional jockeys may be resistant to report concussions, as they will be out of work/wages if pulled off the track. But with increased awareness and more research on the long-term consequences of concussion, the culture is shifting towards prioritizing athlete safety.
Risks for Jockeys
The job of being a professional jockey in the horse racing industry was deemed a high-risk occupation by the Department of Health and Human Services in the US (5).
Horse racing poses unique challenges for jockeys, who ride at high speeds and are often in close proximity to other riders. For jockeys, the risks of concussions are heightened due to the unpredictable nature of racing. There is high potential for falls and collisions. For example, research shows that elite jockeys can expect to fall every 502 rides in Thoroughbred races and every 318 rides in Quarter Horse races (6). The risk of returning to racing before full recovery and medical clearance is also a concern, as it might lead to second impact syndrome.
Further, jockeys with multiple concussions are more at risk for reduced functioning (7), as well as depression and work-related stress (8). Female jockeys were more significantly impacted by multiple concussions compared to males.
Risks for Horse Racing Tracks
The horse racing tracks also face risks if proper protocols for concussion management aren't in place. These risks include anything from potential legal consequences to public relations challenges.
Let's explore ways to mitigate these risks in the following sections.
Safety Measures and Prevention
Safety measures in horse racing are paramount. The horse racing industry has been adopting several measures to prevent and manage concussions effectively:
Helmets for Jockeys: Helmets are a critical piece of protective gear and have evolved to offer better impact absorption. While helmets in horse racing do not entirely prevent concussions, they can reduce the severity of head injuries (9,10).
Concussion Education: Jockeys are receiving more education on recognizing and reporting concussions.
On-Site Medical Coverage: Horse racing tracks and events are introducing on-site medical staff to evaluate and manage concussions, among other injuries and emergencies.
Concussion Protocols: Governing bodies are instituting protocols to enhance recognition and management of concussions.
Concussion Protocols
Internationally, the equestrian community is recognizing the importance of robust concussion protocols.
In the US, the Horseracing Integrity and Safety Act of 2020 has authorized a private self-regulatory organization, the Horseracing Integrity and Safety Authority (HISA), to oversee the health and safety of jockeys and horses. This act includes regulations on concussion management for state racing commissions and racetracks. The HISA website provides a concussion protocol template for racetracks. And researchers published a proposed return-to-ride protocol specifically for thoroughbred jockeys in the US system (11).
In the UK, the British Equestrian (BEF) released the first unified concussion guidelines in 2023 tailored specifically for the equestrian industry. They propose a "return to ride" protocol that is easy to follow and can be used by anyone affected by concussion in the industry.
In Canada, groups like Ontario Equestrian have published concussion policy and return to riding guidelines. And more and more horse racing groups around the globe are doing the same.
In regards to youth and non-elite riders, the CDC provides an educational sheet for coaches and trainers in the equestrian industry. And the UK Government published these thorough concussion guidelines for non-elite athletes in 2023.
Challenges in Implementing Concussion Protocols
Even with the global progress mentioned above, the world of horse racing lags behind other sports when it comes to implementing and enforcing concussion protocols. Challenges include the decentralized nature of the horse racing industry, varying regulations across regions and countries, and the need for cooperation among stakeholders. Effective concussion management necessitates a unified approach that encompasses education, communication, and resources.
HEADCHECK Health is Revolutionizing Horse Racing Medical Care
The HEADCHECK Jockey Health System was piloted in 2019 by a small group of racetracks with a shared vision for revolutionizing medical care in horse racing. Since then, HEADCHECK has transformed our products to optimally cater to the injury reporting and management needs of the horse racing community.
The HEADCHECK Jockey Health System offers an industry-specific electronic injury-tracking system with a focus on optimizing concussion safety and care at racetracks. The all-in-one injury tracking system is secure and HIPAA compliant and works with HISA's existing structure and protocol. It will protect jockeys from mismanaged injuries and ease communication among racetracks. Medical staff, stewards, contractors, and other authorized individuals can track jockey eligibility no matter where the jockey races.
To learn more about the HEADCHECK Jockey Health System, contact us today!
Takeaways
The world of horse racing is at a turning point in addressing concussions among jockeys. By recognizing the risks, prioritizing safety measures, staying informed about the latest research, and working together to establish and implement effective protocols, the industry is taking positive steps toward ensuring the health and well-being of its athletes.
References
O'Connor S, Warrington G, McGoldrick A, Cullen S. Epidemiology of Injury Due to Race-Day Jockey Falls in Professional Flat and Jump Horse Racing in Ireland, 2011-2015. J Athl Train. 2017 Dec;52(12):1140-1146. doi: 10.4085/1062-6050-52.12.17. Epub 2017 Nov 20. PMID: 29154693; PMCID: PMC5759697.
Ryan K, Garruppo G, Alexander K, Hluchan CM, Lincoln AE. Injuries among Maryland jockeys during thoroughbred racing: 2015-2019. BMJ Open Sport Exerc Med. 2020 Dec 1;6(1):e000926. doi: 10.1136/bmjsem-2020-000926. PMID: 33354351; PMCID: PMC7709501.
Davies M, Jackson KA, Mackinnon AL, Turner A, Kuznik K, Hill J, Newton JL, Sanchez Santos M. Epidemiology of race day injury in young professional jockeys in Great Britain from 2007 to 2018: a retrospective cohort study. BMJ Open. 2021 Aug 11;11(8):e044075. doi: 10.1136/bmjopen-2020-044075. PMID: 34380713; PMCID: PMC8359493.
O'Connor S, Warrington G, Whelan G, McGoldrick A, Cullen S. Concussion History, Reporting Behaviors, Attitudes, and Knowledge in Jockeys. Clin J Sport Med. 2020 Nov;30(6):578-584. doi: 10.1097/JSM.0000000000000658. PMID: 30212399.
Hendricks KJ, Downes A, Gibbins J, et al. An Overview of Safety and Health for Workers in the Horse-racing Industry. DHHS (NIOSH) Publication No. 2009-128. Cincinnati, OH: Department of Health and Human Services, 2009.
Hitchens PL, Hill AE, Stover SM. Jockey Falls, Injuries, and Fatalities Associated With Thoroughbred and Quarter Horse Racing in California, 2007-2011. Orthop J Sports Med. 2013 Jun 11;1(1):2325967113492625. doi: 10.1177/2325967113492625. PMID: 26535231; PMCID: PMC4555501.
Wall SE, Williams WH, Cartwright-Hatton S, Kelly TP, Murray J, Murray M, Owen A, Turner M. Neuropsychological dysfunction following repeat concussions in jockeys. J Neurol Neurosurg Psychiatry. 2006 Apr;77(4):518-20. doi: 10.1136/jnnp.2004.061044. PMID: 16543534; PMCID: PMC2077488.
Piantella S, McDonald SJ, Wright BJ. Gender and Workplace Stress Affect the Association Between Concussion History and Depression Symptoms in Professional Jockeys. Arch Clin Neuropsychol. 2023 May 22;38(4):537-547. doi: 10.1093/arclin/acac084. PMID: 36309850; PMCID: PMC10202554.
Connor TA, Clark JM, Jayamohan J, Stewart M, McGoldrick A, Williams C, Seemungal BM, Smith R, Burek R, Gilchrist MD. Do equestrian helmets prevent concussion? A retrospective analysis of head injuries and helmet damage from real-world equestrian accidents. Sports Med Open. 2019 May 24;5(1):19. doi: 10.1186/s40798-019-0193-0. PMID: 31127396; PMCID: PMC6534639.
Clark JM, Hoshizaki TB, Annaidh AN, Gilchrist MD. Equestrian Helmet Standards: Do They Represent Real-World Accident Conditions? Ann Biomed Eng. 2020 Aug;48(8):2247-2267. doi: 10.1007/s10439-020-02531-y. Epub 2020 May 12. PMID: 32399843.
Quiutana C, Tumlin KI, Hoch MC, Heebner NR, Grinshaw BL, Mattacola CG. A proposed return-to-ride protocol for United States jockeys following concussion. Clin Pract Athl Train. 2021;4(3):17-27. https://doi.org/10.31622/2020/0004.3.4.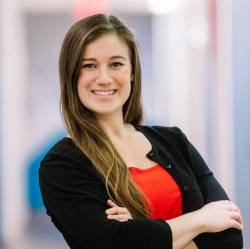 Latest posts by Dr. Jennifer Hunnicutt
(see all)