Cheerleaders are at high risk for concussions. And the risk for concussions has been steadily increasing, even though cheerleading's overall injury rate has decreased.
In order to understand these trends, we must first cover some of the history of cheerleading, as it relates to its lack of classification as a sport and decreased access to safety resources.

History of Cheerleading as a Sport
Despite increasing popularity and mainstream recognition, cheerleading has not received the same attention as other sports, such as gymnastics or football.
There has been debate about cheerleading being classified as a "sport" in the U.S. Currently, >30 states in the U.S. classify competitive cheerleading as an interscholastic sport. The National Collegiate Athletic Association (NCAA) does not sanction cheerleading as a sport, and therefore, Title IX guidelines do not apply. This is important to note because "sport" designation has implications for regulation and safety, such as access to medical resources.
There seems to be movement toward classifying cheerleading as a sport across governing bodies. So with this movement, it is likely that more athletes have been reporting their injuries. Therefore, more data is available on the incidence of injuries and concussion in cheerleading.
Additionally, cheerleading has become increasingly demanding, with competitions such as the All-Star and STUNT tracks. Therefore, this may also contribute to the increased rates of concussion being reported.

Review of the Research of Injuries and Concussion in Cheerleading
In order to disseminate important health-related information about cheerleading, a team of sports medicine professionals published a research review in The Orthopedic Journal of Sports Medicine. In addition to reviewing the current literature, the authors present evidence-based guidelines for physicians and rehabilitation professionals who may see cheerleading patients in their clinical practice.
Concussion Rates in Cheerleading
Research has shown that the risk of concussions in cheerleading is higher than gymnastics. Even though the two sports have similar components, the stunting elements in cheerleading are the contributing factor to increased risk. Concussions are the most common head injury, with 96% of them being related to stunts.
Research has also indicated that cheerleading poses a greater risk of concussion than American football. Concussions are more likely to occur during cheer practice. Both flyers and bases are at risk. Flyers are at risk of hitting their head on the ground, while bases are at risk of getting hit in the head during stunts. 
Prevention of Concussions in Cheerleading
The authors of the research review allude to a number of ways to target prevention of concussions in cheerleading. These include establishment of regulations for stunts, similar to regulations for football, especially in youth. These also include ensuring facility/equipment safety and providing access to appropriate medical resources, such as athletic trainers. Lastly, the designation of cheerleading as an official sport across all governing bodies would have obvious implications in access to safety resources, and in turn, prevention of injuries and concussions.
Author's Perspective as an Athletic Trainer
As an athletic trainer, I have provided medical coverage for cheerleading at the high school and collegiate levels. I can attest to the high risk of injury in cheer – I have only spineboarded a few athletes in my career, and one of those athletes was a cheerleader who fell from the top of a stunt. I can also attest to the inequities that cheerleaders receive in terms of access to medical resources. Because of this, I hope to see more recognition of cheerleading as a sport, and in turn, more access to athletic trainers and medical care.
References
Xu AL, Beck JJ, Sweeney EA, Severson MN, Page AS, Lee RJ. Understanding the Cheerleader as an Orthopaedic Patient: An Evidence-Based Review of the Literature. Orthop J Sports Med. 2022;10(1):23259671211067222. Published 2022 Jan 18. doi:10.1177/23259671211067222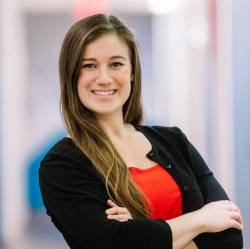 Latest posts by Dr. Jennifer Hunnicutt
(see all)